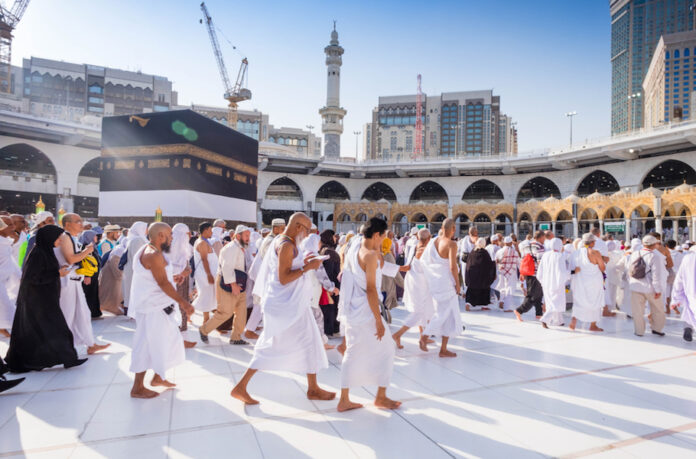 Been wanting to visit Saudi Arabia? The introduction of the tourist visa and Visit Saudi initiative has gotten many curious to know how to get across to the Kingdom.
The ILoveQatar.net (ILQ) team is here to help ease your Saudi travel queries with a guide to the various visas and ways to access Saudi Arabia.
Note:
Please check the official Ministry of Health, Kingdom of Saudi Arabia website before you make any travel plans and call the relevant entity or authority to ensure you have the most up-to-date information.
Visa Types
Image Credit: ShutterstockE-Visa/ Visa on Arrival – also known as the Tourist VisaConsulate Visa/ Embassy VisaPilgrim Visa
E-Visa & Visa on Arrival – Eligible Passport Holders
Citizens of Qatar do not have to apply for visas to enter the Kingdom of Saudi Arabia.Residents in Qatar can now avail of an E-Visa or a Visa on Arrival as a tourist to visit the country via their online application system. For residents of Qatar, their home countries must be on Saudi's eligibility list. Find the list of eligible countries here.The E-Visa application process is entirely online and once approved can be received via email.
Visa Fees:
E-Visa: QR 519.93 (SAR 535) Visa on Arrival: QR 466.48 (SAR 480)
These prices are inclusive of the medical insurance charge.
Regulations:
Minimum age of applicants must be 18 years old.Underaged applicants require an individual above 18 years old to act as their guardian.When applying, the passport validity must be at least 6 months at the time of entering Saudi Arabia.Refund in case of rejection is not possible. Visa fees are non-refundable.Overstay fees: QR 97.15 (SAR 100) for each day of overstay when the visa expires without leaving Saudi Arabia.Countries with bilateral agreements can apply for the visit visa through E-Visa or Visa on Arrival – USA, UK, South Korea and Japan.US, UK and Schengen business or tourist visa holders can apply for a Visa on Arrival.
Documents required:
Applying for a visa for Saudi Arabia online is simple. Travelers need just 3 items to complete the Saudi Arabia E-Visa application form:
Passport from an eligible country, valid for 6 months beyond the arrival date
Passport-size photograph
Debit or credit card
Documents not required to obtain a visa:
Return ticketBooking accommodation (only address is required)
As per the Visit Saudi website, a duration of 5 to 30 minutes is taken to issue an E-Visa in most cases.
Consulate Visa/ Embassy Visa – Passport holders of countries not on the eligibility list
Residents of Qatar who hold passports that are not on the eligibility list will have to apply for a tourist visa prior to travel through the designated travel agents mentioned below:
Rehlaty Travel & Tourism:
Contact: +974 4036 0777 | +974 6662 8439 | +974 5090 0566
Instagram: @rehlaty4travelBayrak Al Rayan Travel and Tourism:Contact: +974 6699 9198
Visa Fees:
QR 1,000 – Inclusive of insurance (subject to change)
Documents required for consulate visa:
Minimum salary – QR 15,0006 months bank statementOriginal passport – valid for 6 monthsOriginal QID – valid for 3 months2 passport-size photos – white background
Tourist visa clauses:
You will get a multiple-entry visa valid for 365 from the date of issueMaximum stay of up to 90 days Includes mandatory medical insurance policy
Pilgrim Visa
Image Credit: Shutterstock
Those who wish to travel to Makkah for the purpose of Hajj will be required to apply for a specific Hajj Pilgrim Visa.
FAQ
Can you perform pilgrimage with a tourist visa?

Tourist visa holders can visit all cities; therefore, can perform Umrah. However, this will not be applicable during Hajj season.
Please note that the Hajj quota from Qatar for the year 2022 will only accommodate citizens.
Which cities can you enter with a tourist visa?
The tourist visa can be used to access all cities in Saudi Arabia. However, from 24 June till 20 July 2022 tourist visas will be stopped for Makkah and Madinah to accommodate Hajj pilgrims.
How to enter Saudi Arabia by road?
With either of the visas, based on your eligibility you can cross the border to Saudi Arabia. A valid Qatar driving license or International driving license will be required.
Which Saudi Arabian airports can be accessed with a tourist visa?
King Khalid International Airport (RUH), RiyadhKing Abdulaziz International Airport (JED), JeddahKing Fahd International Airport (DMM) DammamPrince Mohammed Bin Abdulaziz International Airport (MED), Medina
What are the COVID-19 regulations for travel to Saudi Arabia?
PCR tests are not required anymore.Tawakkalna – COVID tracking application will be required upon arrival.
RELATED:
Source: Visit Saudi & Saudia
Did you know of any of these Saudi travel requirements? Do you have more questions? Do let us know in the comments below. Do share this article – it keeps us going!


Follow us on our social media channels:
@ILQlive
@ILQlive
@ILoveQtr
ILoveQatar