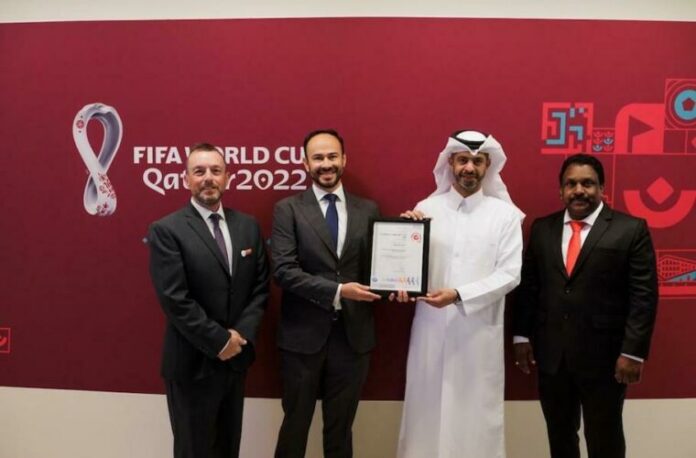 The FIFA World Cup Qatar 2022 LLC (Q22) – the operational arm of FIFA and the Host Country for the delivery of the tournament – has achieved ISO 20121 certification, the international standard that sets requirements for developing and implementing an effective management system to deliver a sustainable event. The certification was granted after an extensive audit process that was initiated during the FIFA Arab Cup Qatar 2021(TM) – which was held exactly a year before the first FIFA World Cup(TM) in the Middle East and Arab world.
Nasser Al Khater, CEO, Q22, said: "Sustainability has been at the heart of Qatar 2022 from the start, and the independent recognition of the delivery of best practices reflects our enduring commitment to it. Among the many legacies of this tournament, sustainability is a critical element of planning and preparation that teams across Q22, the Supreme Committee for Delivery & Legacy and FIFA have been focused on, and I hope future tournament organisers will look to us as a model for hosting a mega-event."
The audit process

SGS carried out the extensive audit process. It is a world-leading testing, inspection and certification company that has a wealth of experience in certifying mega-sport event organisers against ISO 20121 requirements, including the Olympic and Paralympic Games, and the French Open tennis tournament.
Sustainability management mechanisms assessed during the FIFA Arab Cup(TM) audit included:
Accessibility infrastructure and services for disabled fans, including seating, mobility assistance and innovative features such as audio descriptive commentaryWaste minimisation and recycling, including staff training, segregation and awareness-raising activities carried out with the support of sustainability volunteersSustainable procurement of items required for the delivery of the tournament, including uniforms made from recycled plastics and the use of compostable food packaging Social and environmental audits to ensure supplier compliance with the FIFA World Cup Qatar 2022(TM) Sustainable Sourcing CodeIncident reporting and resolution during tournament time, including governance arrangements and gathering of lessons learned
The sustainability management system is a specific management mechanism and approach through which the FIFA World Cup Qatar 2022(TM) formulates sustainability policies, implements sustainability measures, achieves sustainability objectives and incorporates sustainability into the whole lifecycle of the tournament.
FIFA World Cup Qatar 2022(TM) Sustainability Strategy
The joint FIFA World Cup Qatar 2022(TM) Sustainability Strategy is the foundation of the tournament's sustainability management system. A comprehensive set of mechanisms have been implemented to ensure successful delivery against the expectations of stakeholders and the strategy's objectives. The ISO certification covers tournament operations across all official venues and measures the effectiveness of the management system from the planning stage to tournament delivery.
The ISO 20121 achievement has allowed organisers to successfully deliver the target assigned to address the topic of transparency and accountability, which was identified as an important issue during the development of the FIFA World Cup Qatar 2022(TM) Sustainability Strategy. Please visit the sustainability targets page for further information.
Source & Cover Image Credit: Press Release


Follow us on our social media channels:
@ILQlive
@ILQlive
@ILoveQtr
ILoveQatar