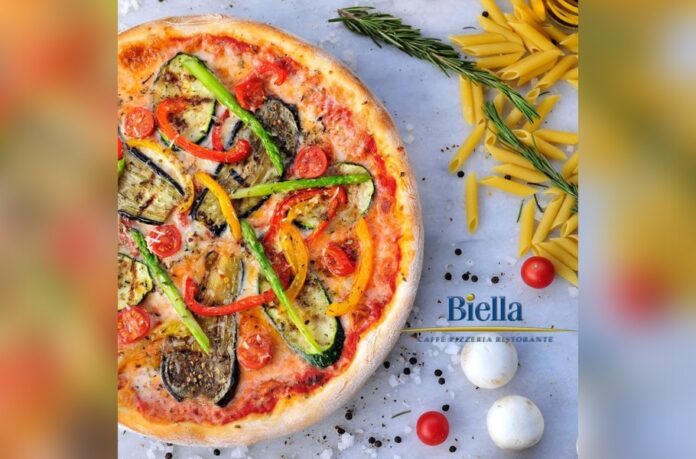 Looking for Italian restaurants in Qatar to satisfy your pizza, pasta & dessert cravings? Well, we are here to tell you just that!
The ILoveQatar.net (ILQ) team has listed some of the must-visit Italian restaurants (in alphabetical order) in Qatar that will have you saying 'buono'! Happy eating!
Mid-end & budget-friendly restaurants
Biella
Image credit: BiellaRecommended: Bolognese Pasta, Passion LimonataLocation: The Mall; The Pearl-QatarPhone: +974 4421 0025Instagram: @biellaqa
Cicchetti Doha
Image credit: Cicchetti DohaRecommended: Pizza Vegetariana, AranciniLocation: C Ring RdPhone: +974 4421 9000Instagram: @cicchettidoha
Fabio's Pizza
Image credit: Fabio's PizzaRecommended: Margherita Pizza, Pasta alla BologneseLocation: Al Waab Branch, Villa 30, Al Ghariya StreetPhone: +974 4416 5641Instagram: @fabiospizzadoha
Eataly
Image credit: EatalyRecommended: Margherita Pizza, Minestrone Alla GenoveseLocation: Al Shamal Road, Umm Salal MohammedPhone: +974 4028 5055Instagram: @eatalyarabia
leVesuvio
Image credit: leVesuvioRecommended: Calzone Pizza, Risotto FunghiLocation: Katara Cultural VillagePhone: +974 4408 1500Instagram: @levesuvio
MELENZANE – Qatar
Image credit: MELENZANE – QatarRecommended: Short Ribs Risotto, Pizza Alla PepeLocation: Doha Festival CityPhone: +974 5009 8899Instagram: @melenzaneqtr
Rocca Doha
Image credit: Rocca DohaRecommended: Traditional Tiramisu, Frutti De MareLocation: West Bay Lagoon? Grand Hyatt Doha Hotel & VillasPhone: +974 4448 1272Instagram: @roccadoha
Vapiano Qatar
Image credit: Vapiano QatarRecommended: Tomato Soup, Bruschetta AntipastiLocation: The Gate Mall; Al Mana TowersPhone: +974 4407 7188Instagram: @vapianoqatar
Veritas Restaurant
Image credit: Veritas RestaurantRecommended: Lasagna, Cannoli SicilianiLocation: Um Al Saneem Street, Street Number 970Phone: +974 4445 0000Instagram: @veritasalmessila
High-end restaurants
CUCINA The Italian Kitchen
Image credit: CUCINA The Italian KitchenRecommended: Pizza Margherita, Risotto Ai FunghiLocation: City Center? Omar Al Mukhtar StPhone: +974 4419 5510Instagram: @cucinadoha
Il Galante
Image credit: Il GalanteRecommended: Quattro Formagi & Tartufo Pizza, Panna Cotta Location: Banyan Tree DohaPhone: +974 4410 3310Instagram: @ilgalantedoha
La Spiga by Paper Moon
Image credit: La Spiga by Paper MoonRecommended: Tortino di melanzane alla parmigiana, Pizza BufalinaLocation: W Doha Hotel & Residences, Diplomatic StPhone: +974 4453 5135Instagram: @laspigadoha
Paper Moon Doha
Image credit: Papermoon DohaRecommended: Pizza Arabica, Burrata alla CapreseLocation: Jaidah SquarePhone: +974 4016 6000Instagram: @papermoondoha
Sasso
Image credit: SassoRecommended: Fried Calamari, Pasta Al FornoLocation: Al Hazm MallPhone: +974 6644 0590Instagram: @sasso.qa
Scalini Doha
Image credit: Scalini DohaRecommended: Avocado Scalini, Minestrone Di VerdureLocation: Tower 2, Al Gassar ResortPhone: +974 4424 4850Instagram: @scalinidoha
Trapani Qatar
Image credit: Trapani QatarRecommended: Al Forno Rosa Pasta, Oregano FriesLocation: Msheireb Downtown DohaPhone: +974 4001 4135Instagram: @trapani.qtr
RELATED:
How many of these Italian restaurants have you checked out? Do let us know your favourite ones in the comments section below. Do share this article – it keeps us going!


Follow us on our social media channels:
@ILQlive
@ILQlive
@ILoveQtr
ILoveQatar