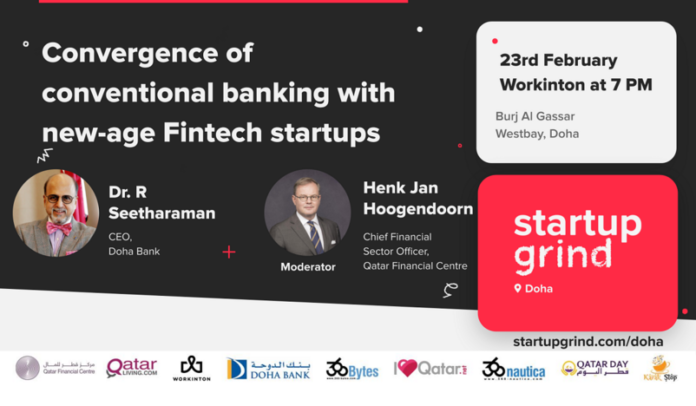 Startup Grind Event – February 2022
For a long time, consumers have tolerated the lack of technology found at traditional banks. But, with fintech on the rise, banks are struggling to keep up and offer customers the innovation they crave. The question is, will it be fintech vs. traditional banks? Or can they join forces to build financial services that modern consumers are looking for?
Studies from Statista show that from 2018 to 2021, fintech companies in the EMEA region have tripled. In 2021, a total of $210 billion was invested globally across mergers & acquisitions, private equity, and venture capital into fintech startups.
Fintech vs. traditional banks: what's the difference?
The role of both fintech and traditional banks is to provide seamless financial services to consumers; that's the only similarity.
Fintech's are considered the bank's biggest competitors though they fully complement each other. The financial system banks use traditional and old-fashioned practices and procedures. It's more often time-consuming and glitchy than it is frictionless. As consumer demands shift to wanting things faster and easier, people are looking for a financial solution that meets their needs.
Fintech is innovative, customer-centric, and streamlines complex financial processes, making it more accessible to people. These companies use lean operating models that are free of legacy system issues and can circumvent unfavorable regulations. Because of the flatter organizational structures in fintech, it's easier to change, innovate, and rebuild systems that aren't working. It leverages new technologies like artificial intelligence, big data, and cloud computing to give customers a unique experience. It's focused on seamless delivery, personalization, speed, and relevance.
By streamlining complex financial processes, fintech's are more accessible to people, particularly millennials and younger generations. Also, due to a more optimized business structure, fintech companies can offer products and services up to 10 times less expensive than traditional banks. A conventional bank needs real estate and thousands of employees, while many fintech's need tiny real estate and a minor team. The savings are then passed on to consumers.
According to Statista, between 2015 and 2019, consumer adoption of fintech companies and products proliferated worldwide. By 2019, 75% of consumers globally started using some form of money transfer and payment service.
This doesn't mean banks will slip away. Traditional banks have sustained market share, and with fintech on the rise, they are acclimating to changes in consumer needs. This includes adopting fintech features like digital security, mobile payments, and peer-to-peer lending, which lets customers borrow from an individual or group of individuals.
Stricter regulations, of course, lead to lower risk, which makes traditional banks the less risky option. But if you want to stay competitive, reach more people, and provide a better customer experience, financial technology is essential. Just make sure you're using an app or service that is well known and compliant if necessary. For example, our payment gateway must be PCI DSS compliant to ensure that merchant and consumer data are securely handled in credit card transactions.
Compliance regulations vary depending on the sector each fintech is operating in.
Will fintech companies and traditional banks work together?
Fintech companies and traditional banks both work as financial intermediaries. Banks have been in business for hundreds of years, but they still need to make radical changes to meet the needs of modern-day customers.
Technologically speaking, fintech gives users more advanced features, and traditional banks provide almost the same services. So, what does their relationship look like now? And how will it evolve in the future?
We can't expect people to switch completely away from banks to fintech. But if fintech and banks can cooperate and collaborate, they'll both make a more significant impact. There are immediate advantages to both parties if the two can partner.
Traditional banks benefit from the innovation and agility of fintech. And they boost confidence in financial technology due to decades of customer loyalty, business size, and an established network.
Here are a few advantages to fintech and traditional banks collaborating:
o When compared to fintech, banks have massive deposits. If they partner, building better financial systems will be easier for banks.

o If fintech collaborates with banks, they will be regulated under the same government institutes, which can help build trust.

o The overall financial system will improve because of the advanced technology fintech can bring to banking.
Banks are embracing fintech features to improve user experience to meet consumers' technological demands today. As the whole finance system evolves, allocating resources for digital agility is increasingly a priority for banks. A win-win situation for both is long-term partnerships that combine innovation (fintech) and support and trust (banks) with building the digital future sector.
Startup Grind Event – February 2022
On 23rd February 2022, Startup Grind Doha is hosting a fireside chat at Workinton, Westbay with Dr. R. Seetharaman, CEO – Doha Bank, and Henk Jan Hoogendoorn (Moderator), Chief of Financial Sector Office, Qatar Financial Center to know more about the Fintech scenario in the State of Qatar and if we will see a possible collaboration between Fintechs and traditional banks.
Henk is the Chief of Financial Sector Office at QFC, where he is responsible for delivering on QFC's mission of attracting financial and regulated businesses to Qatar through the QFC platform, in line with the Second Financial Strategy and Qatar National Vision 2030. He has extensive experience in international finance, management, and transforming and building businesses in the financial sector. Henk has held senior management roles at ABN AMRO Bank and Deutsche Bank in the Netherlands and the Middle East and has a solid track record of implementing businesses in the financial sector.
Dr. R. Seetharaman, Chief Executive Officer of Doha Bank since 2007, is a prominent personality in the banking industry throughout the Middle East, an economic expert who has achieved remarkable success for his contributions to Banking, Trade, Investment, Economics, Environment, Social responsibility, Philanthropy, and Charity.
In 2017, he was recognized and conferred by the Government of India with the prestigious Pravasi Bharatiya Samman Award, the highest honor conferred on overseas Indians by the Government of India. He was also honored with the "Green Economy Visionary Award" in 2016 by the Union of Arab Banks and a "Global Excellence Award in Renewable Energy 2017" by the Energy and Environment Foundation.
Workinton (Venue Sponsor for Startup Grind) is an innovation-driven coworking hub with near 20,000sqm of space worldwide, from Turkey to San Diego to Berlin, and with more than 3200 sqm in Qatar; from Alfardan Centre, Westbay, Lusail, and Msheireb. Complete with colourful and modern office spaces designed for startups, investors, SMEs, freelancers, and corporates.