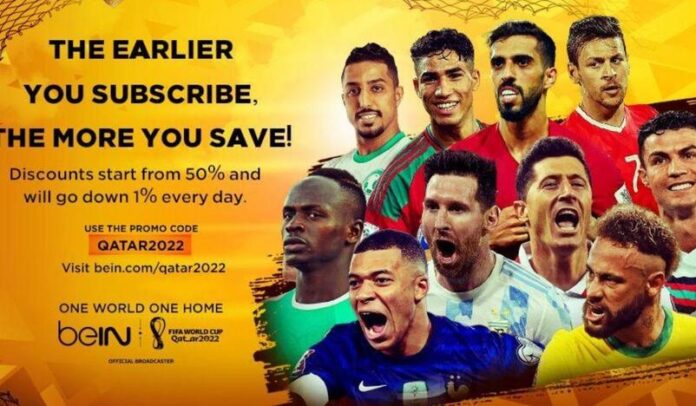 Take advantage of this offer to watch the FIFA World Cup Qatar 2022 Matches.
BeIN has launched a new offer for this summer that starts with 50% discounts where all current and new beIN subscribers all over the Middle East and North Africa will be able to watch all the FIFA World Cup Qatar 2022(TM) football matches and behind-the-scenes action and other exclusive unique content. The offer is valid from June 12 till July 31.
The massive offer starts with 50% on annual subscription fees on beIN ULTIMATE and will gradually decrease to 1% at midnight KSA time until the end of July, so those who are the first to subscribe will enjoy the bigger discounts, as well as exclusive content of the FIFA World Cup Qatar 2022(TM). The offer allows all users the chance to enjoy ULTIMATE packages for one year, including beIN 4K, the best channel to watch in 4K definition, and a monthly credit of 20 USD to watch the latest Bollywood movies on beIN on Demand and beIN Box Office.
The offer also includes beIN CONNECT, which allows you to watch unique content while on the move, including the FIFA World Cup Qatar 2022(TM) matches.
To celebrate the Summer Offer, new subscribers will receive a complimentary brand-new PVR Plus receiver with free delivery in countries where this service is available.
To subscribe to the offer, visit the link below:
https://www.bein.com/en/qatar2022/offers/
Promo Code: QATAR2022
360 Motoring | Volvo XC60
Influencer in Focus | Maria Fernanda Del Rio
Arabian Peninsula Horse Show 2022
Pashtana Durrani: Women have the right to decide their education, work & inheritance

r
ENLIVEN YOUR INBOX Subscribe to our newsletter and never miss a story