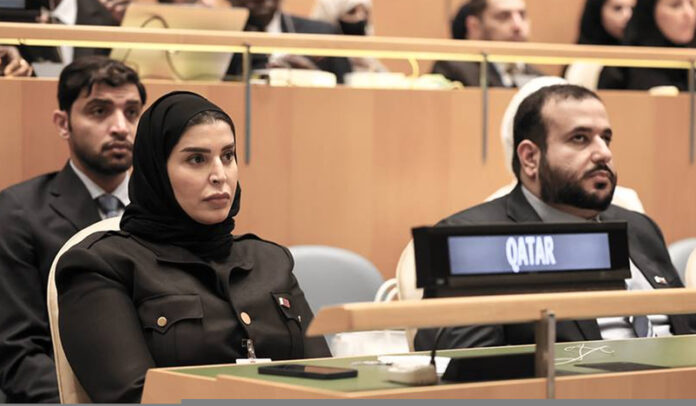 Image: QNA
The state of Qatar announced that its ready to host and organize the fourth Global Disability Summit 2028 in Doha in cooperation with International Disability Alliance.
This came in the statement of the State of Qatar delivered by HE Minister of Social Development and Family Maryam bint Ali bin Nasser Al Misnad , during her leadership of the delegation of the State of Qatar in the 15th session of Conference of States Parties to the Convention on the Rights of Persons with Disabilities, which is set to be convened at the United Nations Headquarters in New York, USA, under the title "Building Disability Inclusive and Participatory Societies in The Context of COVID-19 pandemic and Post-Pandemic from June 14-16.
During her speech, HE Minister of Social Development and Family confirmed that the state of Qatar is fully ready to receive football sports fans from Persons with Disabilities in FIFA World Cup Qatar 2022 next November, pointing out that Qatar has been assiduously working during the past years to ensure that this tournament becomes most accessible for persons with disabilities in the history of the world championships.
Source: QNA
Lifestyle
What do you know about Twin Towers in Lusail
Technology
Time to say goodbye: 27-year-old Internet Explorer will retire on June 15
Lifestyle
Where to find the best fragrances in Qatar
International News
Covid-19: Japan reopens to tourists – but with strict rules
360 Motoring | Volvo XC60
Influencer in Focus | Maria Fernanda Del Rio
Arabian Peninsula Horse Show 2022
Pashtana Durrani: Women have the right to decide their education, work & inheritance

r
ENLIVEN YOUR INBOX Subscribe to our newsletter and never miss a story