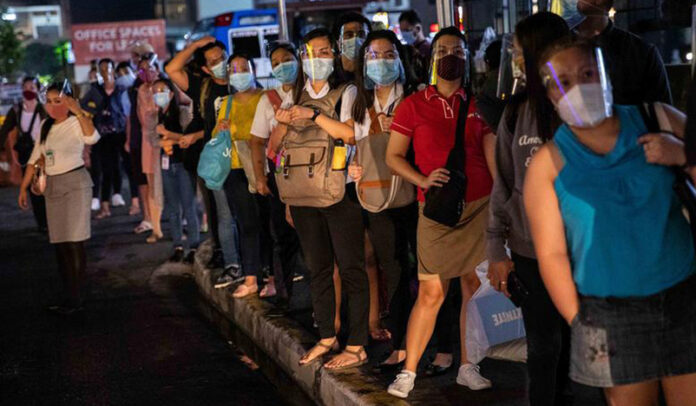 Philippines
The daily average cases of COVID-19 spiked by 30.4% for June 6 to 12, from the previous seven-day period, the Philippines' Department of Health (DOH) reported on Monday (June 13).
New COVID cases detected jumped from an average of 185 per day from May 30 to June 5, to 340 daily from June 6 to 12.
The latest numbers showed there were 1,682 new cases in the recent week — with five verified deaths.
Alert Level 1
However, alert levels were unchanged, including Level 1 in Metro Manila, as health officials say the cases are manageable and health care utilisation remains "normal".
Health Undersecretary Maria Rosario Vergeire told local media that if cases and hospital admissions will increase, the alert level will be escalated to Level 2 in the National Capital Region (NCR, Metro Manila). The DOH said it is closely keeping tabs of all health metrics.
"As long as the admissions and severity of cases in the hospitals do not affect our health care utilization rate, Alert Level 1 is still in effect," the official said. "But, we have to be mindful that continuing increases in the cases might lead to escalation of the Alert Level."
Mask-wearing, isolation
The DOH said Alert Level 1 can be maintained by the continued wearing of mask, isolating when sick, doubling up protection through vaccination and boosters, and ensuring good airflow.
During the same period, eight cases were added to the tally of severe and critical infections, which went down to 498 from the previous week's 599.
As for the healthcare utilisation rate, officials said only 16.6 per cent or 345 out of the 2,078 intensive care unit (ICU) beds are in use, while 20.3 per cent or 3,189 of 15,706 non-ICU beds are utilised.
77.5% VACCINATION RATE
The Philippines has achieved a 77.5 % vaccination rate — about 69,759,711 million out of the country's target population 90,005,357.
Out of the 8,721,357 senior citizens, 77.42% had been vaccinated, according to the health authority.
As of June 12, a total of 14,526,648 have received booster shots out of the total 69,487,920 who are fully vaccinated, according to the official news agency PNA.